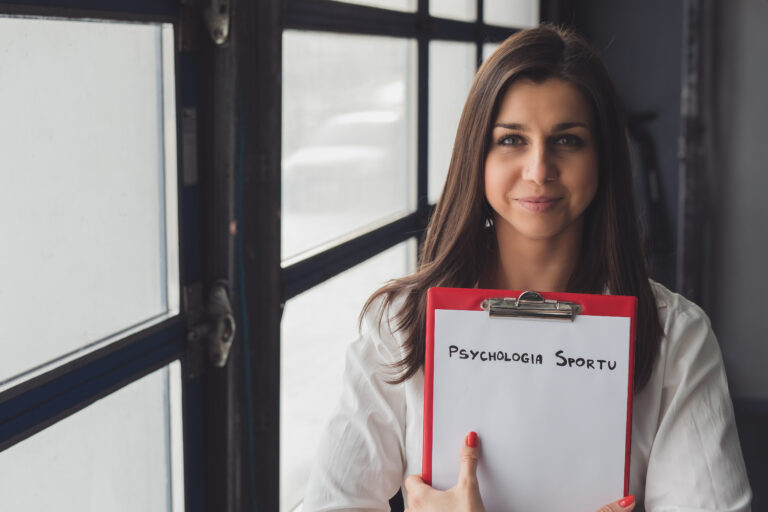 Od strony czysto teoretycznej psychologia sportu zajmuję się badaniem, wyjaśnianiem i opisywaniem psychologicznych aspektów występujących w sporcie. Zawodnicy wykorzystują wszystkie uzyskane w ten sposób informacje w celu poprawy własnych osiągnięć, czy też ogólnego funkcjonowania.
Praca psychologa sportu to nie tylko wyciąganie zawodnika z tzw. dołka, kiedy ma problem. Wręcz przeciwnie, to najczęściej praca nad tym, by z dobrego sportowca zrobić jeszcze lepszego.
Pamiętajcie jednak, że psycholog sportu nie leczy zaburzeń psychicznych (od tego są inni terapeuci). Nie zajmuje się też problemami osobistymi zawodników (chociaż jak wiemy, one także mają często wpływ na sportową postawę). Jego głównym zadaniem jest trening mentalny.
Trening mentalny to proces. Opanowanie przez zawodnika podstawowych umiejętności może zająć kilka-kilkanaście tygodni. Zawodnik otrzyma w tym czasie zbiór wielu metod i technik, które poprzez długotrwałe i systematyczne oddziaływanie poprowadzą go do wzrostu kontroli zachowania, emocji i wszelkich procesów fizjologicznych, które w nim zachodzą.
Praca ta wymaga od psychologa sportu ogólnej znajomości sportu, specyfiki danej konkurencji oraz dostosowania metod i technik wspomagania psychologicznego do cech i umiejętności danego zawodnika czy zespołu.
Do podstawowych zadań, obszarów, nad którymi pracujemy z zawodnikiem zaliczymy:
– zwiększenie samokontroli
– radzenie sobie ze stresem
– prawidłowe wyznaczanie celów
– doskonalenie zdolności koncentracji i uwagi
– budowanie i wzmacnianie pewności siebie
– umiejętność tworzenia wyobrażeń
– zarządzanie emocjami
– poprawa komunikacji między zawodnikiem i trenerem
– wzmacnianie motywacji
– radzenie sobie w powrocie do zdrowia i sportu po przebytej kontuzji
Sport potrzebuje psychologii i będzie jej potrzebował. Razem z psychologiem sportu zawodnik poprawi swoje umiejętności psychologiczne, które zaprowadzą go do stanu optymalnej gotowości umysłu  i pomogą wejść na wyższy poziom wykonania.
Zapraszamy do naszych specjalistów: Beata i Patrycjusz powitają Was uśmiechem!